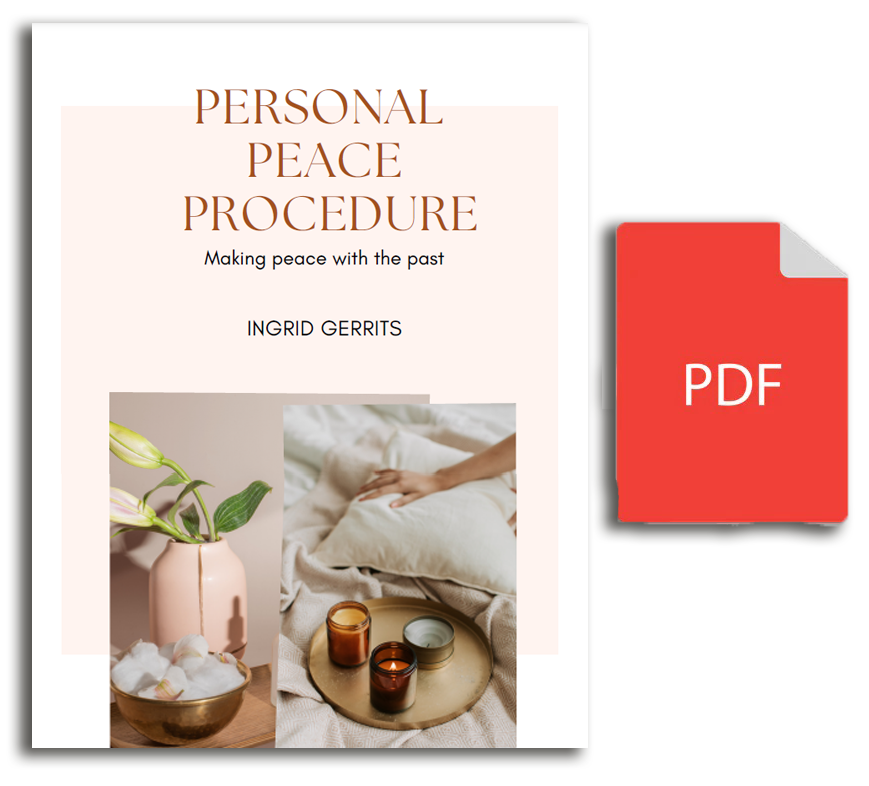 The Personal Peace Procedure is an exercise in which EFT is used to make peace with what happened to you in the past. It was created by Gary Craig and is considered a basic application of EFT.
The stress of unresolved emotional trauma, large and small, contributes to most psychosomatic disorders. The elimination of emotional baggage results in less and less internal conflict. Less inner conflict translates, in turn, into greater personal peace and less suffering on the physical, mental, emotional and spiritual levels, and improves relationships with oneself and others.
DOWNLOAD FOR FREE
The PERSONAL PEACE PROCEDURE
Making peace with the past

Do you spend your energy dwelling on unpleasant memories of the past?Do you feel guilt or shame about some aspects of your life?
Do you keep running into the same kind of relationship problems over and over again?
Do you find yourself trying to avoid constant old feelings by using food or other substances?
If any of your answers are yes, you are probably carrying over stress from events that happened to you in the past.
FILL IN THE FORM AND YOU WILL RECEIVE THE PDF FILE FOR FREE
Make a list of all of the upsetting events that you wish had never happened in your life
Write down the most difficult ones as well as the less important ones.
Be sure to review your relationships with family, friends and school, as these tend to be the source of most of the emotions we carry with us.
Assign a title to each specific event. For example: The day I fell down and everyone laughed, mom slapped my face in front of my friends, my third grade teacher called me stupid in class
Then give each event a rating from 0-10. Start with the events with the highest number and use EFT on each one until you feel neutral when thinking about them. Be sure to note any issues that may come up and consider them different events. Fully resolve each issue before moving on to the next. Continue with the lower intensity events
Develop a daily practice and work on at least 3 events a day for 3 months. Keep a journal so you can observe changes in your life, such as how you feel physically, how often you get angry or even explode, and observe changes in your relationships and in your personal behaviour.
If for some reason you do not feel safe exploring these events on your own, please feel free to contact me at ingrid@thetappingsolution.it or ask another experienced EFT practitioner for help.